The QuiltSOFT Fabric Collection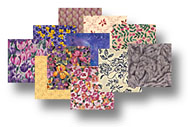 The QuiltSOFT Fabric Collection on CD-ROM feature fabrics offered by major fabric companies. The images on these CD-ROM's are specially designed to work as fabrics within the quilting program QuiltSOFT. By using these fabrics in your quilt layouts, you can decide which fabrics to use in the actual quilts. You can print your designs on a color printer and enjoy them as unique designs. The images are all seamless tiles, which means that you can copy an image and place it next to itself (horizontally or vertically) without an obvious border between images. Seamless tiles are useful as backgrounds, textures, or as fabrics in quilting and other applications. Each fabric image on the CD-ROM comes in 256 color and 24 bit color versions, in bmp and jpg file format. These images can be used as fabrics in the QuiltSOFT 6.0 program and in any other graphics program that has the ability to import these image formats.

HFV1 Hoffman California Fabrics Volume 1 features over 120 fabrics from Hoffman Fabrics. HFV2 Hoffman California Fabrics Volume 2 features over 100 fabrics.

KBV1 Kona Bay Volume 1 features over 100 fabrics from 8 collections. KBV2 Kona Bay Volume 2 features over 100 beautiful fabrics! PBV1 P&B Textiles Volume 1 features over 100 fabrics from Harriet Hargrave and The Pinebrook Collection by Jean Wells.